Delivering specialised training and development
to leading organisations around the world

Polly Downes
Polly Downes is a London-based Executive Coach who works with a variety of clients across the globe, from individuals looking to achieve their goals or find true happiness to corporations looking to get the best out of their people.  She works with individuals on a one to one basis as well as groups.
Polly's passion for empowering others to become the best person that they can be, honouring their ability to come up with the best answer for them drives her approach to coaching. She quickly builds trust and rapport with her clients, allowing them to explore their thoughts and their way of being; she encourages her clients to take risks and to think differently.
Polly is an ICF accredited coach who has trained in team coaching and facilitation as well as structural dynamics, this coupled with her degree in psychology allows her a great depth of knowledge and the ability to observe patterns of behaviour in both teams and individuals. She is a challenging coach which can result in transformational and life changing moments for her clients. Through coaching her clients find clarity in their thinking, purpose and happiness. Polly believes that one of the greatest benefits of coaching is self-reflection; she builds the safe, still place for her clients to be able to to self reflect:
"We cannot see our reflection in running water. It is only in still water that we can see."
(Taoist proverb)
As well as working with individuals, Polly's recent clients have included: LinkedIn, Microsoft, American Express, ITN news, Zone Digital, The National Theatre & National Air Traffic Control. She does regular pro bono work for The Big Issue Foundation.
Before becoming a coach, Polly worked in client relationship and strategic sales solution roles for Dow Jones and the Financial Times.  She held the voluntary position of Vice Chair of Governors in an inner-city London school for over ten years & worked in Diversity & Inclusion in a primary school in London for a year.
In her spare time when she isn't busy with her 3 teenage children Polly finds time to swim, having completed a relay of the English Channel as a team of 4 this year, she is now training to swim it solo in 2019.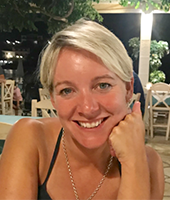 Contact