Delivering specialised learning and development
solutions to individuals and organisations

Ajit Kamath
CPF
Being born to a small-business family in Mumbai-India, Ajit has been part of managing people & business since a young age.
Since 1993, he pivoted into the field of Guest Lecturing and then into Training & now also into Process Facilitation.  3 years ago he got accredited by International Association of Facilitators as a Certified Professional Facilitator (CPF). Recently he has started on his journey of being a ICF Certified Coach.
Over years, his training & facilitation work is more in the Leadership and Management development space especially with mid-level managers who face challenges when managing and leading people. As a follow-up to the learning journey post the training or facilitation, review and coaching is what Ajit is more than often getting into.
His projects over the years include:
Consultant in a global culture change programme within the banking & financial services sector
Lead Facilitator in Leadership, Behavioural & Skills Enhancement for Multi-National Companies, Indian Corporates, Government & Non-Government Organisations
Lead Faculty for some of the pilot projects that were to be launched in India as part of the Global L&D Interventions
Facilitator & Coach for Leaders in Presentation Skills, Public Speaking & Storytelling.
Applied Improv Facilitator using Theatre Tools
Master Trainer for delivering Train-The-Trainer, Train-The-Facilitator Certifications for Internal Training & HR teams
Articles published in magazines like Human Capital, Young Media and newspapers like The Times of India, The Sunday Observer and Sunday Mid-Day other than his blogs.
Over the years, he has delivered workshops for Philips. Unilever, HSBC, Barclays, Tata AIG, Reliance, National Stock Exchange, Glaxo Smith Kline, Johnson Matthey, Tata Institute of Social Science, Welingkar, Vodafone, SKF etc.
Other than his family business, Ajit has had experience working with British Council and Wizards Entertainment Pvt. Ltd.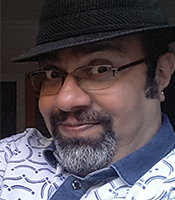 Contact