Delivering specialised learning and development
solutions to individuals and organisations

Eliza Quek
An international, cross culturally sensitive Organisation, L&D consultant, mentor and coach based in Singapore, Eliza brings with her a wealth of Transformational Leadership experience in both private (MNCs ad SMEs) and the public sectors (Public Service Reform to enable Malta to enter the European Union; evolving People Centered Management culture in Singapore's Vocational Industrial Training Board; strategic thinking and diversity management, Myanmar government; enabling Ethiopian Airlines to compete effectively).
She enables Leaders and teams to :
Lead through crises, transitions and in a VUCA (Volatile, Uncertain, Complex and Ambiguous) Post Covid-19 New Norm (PCNN) w
Envision possibilities (Lead from the Future via Future-back Strategic Planning); drive, lead and facilitate organisational transformation and change; break "silos" and collaborate for innovation, facilitating Design Thinking and Rapid prototyping.
Enhance executive presence, story telling and build their personal and leadership brand.
Enhance strategic networking and political navigation skills; crises prevention through values and ethical decision making.
Differentiate problems from paradoxes and balance the latter.
Reduce resistance to implementing change by positioning messages to reduce perceived threat to SCARF (Status, Certainty, Autonomy, Relatedness, Fairness)
Create Climate and micro-cultures that support risk taking and innovation, intrapreneurship, enterprise development and internationalisation.
Map stakeholders, influence and negotiate effectively across cultures (including applying Sun Tzu's Art of War in strategic management and negotiations)..
Develop high value business partnerships, moving from Solutions Provider, Insight, Foresight to Co-creation as Trusted Advisor..
Develop agile teams who deliver peak performance; modelling Inclusive Leadership in respect of Diversity, Equity and inclusion.
Her M.A in Manpower Studies (Birkbeck College) and B.A. Arts (Sociology and Philosophy) University of Singapore stand her in good stead in organization and job design.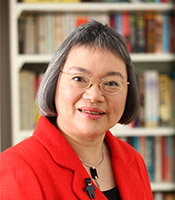 Contact