Delivering specialised learning and development
solutions to individuals and organisations

Maria Garaitonandia
Maria Garaitonandia specialises in global leadership development training and coaching. She has over twenty years of business and senior management experience with clients in both the US and Latin America. Maria has experience as an expat entrepreneur establishing her own consulting firm in Mexico, offering services such as cross-cultural training and coaching for expats, global team management, diversity and inclusion, and leadership business competencies. 
Among recent projects, Maria has been working with Ericsson as a preferred vendor in Mexico, designing and facilitating leadership skills workshops for various areas of the company.  She has also been involved in leadership skills and agility with Roche in Latin America and cross-cultural and leadership training in Banco Santander in Miami. She was certified by Up Your Service College in Singapore and provided service excellence training to close to 1000 employees at Nokia from 2009 to 2011.
Maria has worked extensively in Latin America facilitating courses such as Coaching and Feedback for Managers, Presentation Skills, Effective Communication, Time Management, Negotiation Skills, Conflict Management, Teamwork and Service Excellence.  Some of the other clients she has served with intercultural skills solutions are BDI, Holcim-Apasco, Pernod-Ricard, Banco Santander, Philips and Philip Morris.
She was a professor at Monterrey Tec University, Cuernavaca Campus in Mexico from 1999 -2008, teaching courses such as Intercultural Communication, International Negotiation, Mexican Business Management and Doing Business in the Global Marketplace.   She also coordinated the Cross-Cultural Internet Project (CCIP) there, which provided a virtual setting for cross-cultural team-work among university students around the globe.  Maria has published articles in Business Mexico and Corporate Relocation News on intercultural management and has done some benchmarking research on diversity in Mexico.
Maria holds a B.A. in International Relations and a certificate in Latin American Studies from St. Joseph's University in Philadelphia and a M.S. in Management and Organisational Development from Alliant International University in Mexico City.  She is certified in various instruments such as the DISC, SDI and COI® evaluation tools.  She has an Intercultural Foundations Certification from  the Summer Institute of Intercultural Communication (SIIC) in Portland, OR. She is a Coach U graduate and member of the Global Coaches Network.  Maria is fluent and trains in English, Spanish, and Portuguese, and is conversant in French and Italian.  She is Cuban-American and has lived in Italy, Puerto Rico and Mexico and currently resides in Miami, FL.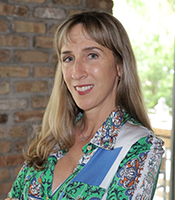 Contact